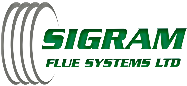 HEAD OFFICE: 0161 682 1999
CE-MARKING ACCREDITATION
An integral part of the company's Quality System is Factory Production Control.
The company's series production processes of flue products will conform to the technical standards of
EN1856-1: 2009 and EN1856-2: 2009.
Flue products conforming to these standards will be CE marked appropriately prior to sale.
Stainless steel system chimney products.
Manufacturer:
Sigram Flue Systems Ltd.
Place of production:
E2 Meadowbank Business Park,
Tweedale Way, Chadderton, Oldham. OL9 8EH.
We declare that for the product mentioned above all the provisions concerning EN 1856-1 and EN 1856-2 have been applied and that it carries the respective CE marking conform Annex ZA.
For the elevation of conformity the tasks mentioned in table ZA. 4 have been accomplished.
The certification of the factory production control is performed by:
Notified Body 0120
The factory production control certificate number: GB13/89128
Issued on: 03 JULY 2013